Make your home a model of French sophistication with some help from Taillardat!
The French have a well-deserved reputation for excellence in the luxury goods sector. Furniture-maker Taillardat is a good example of this, with its high-end reproductions of classic French furniture designs, available from http://www.taillardat.fr.
The 18th and 19th centuries in particular spawned a whole clutch of models that were much admired in France and elsewhere. Looks such as the Marie-Antoinette chest of drawers were typical of this period. Taillardat seeks to recreate the designs of this time, using fine woods such as cherry, beech and mahogany. Additional decorative flourishes, ranging from lacquer finishes and bronze ornaments to marble tops and ornate marquetry add to the attractiveness of these items. As Taillardat products are designed to be practical as well as pretty, many such chests feature lockable drawers.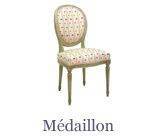 It's only possible to produce such authentic-looking reproductions due to the skilfulness of the men and women who create them. They use tried and tested techniques to recreate the look and feel of the originals. These include upholstery, gilding, leather casing, wood painting, joinery, cabinet making, carving and French polishing. The results of their patience and talent may be seen in articles like the Médaillon chair, shown below.